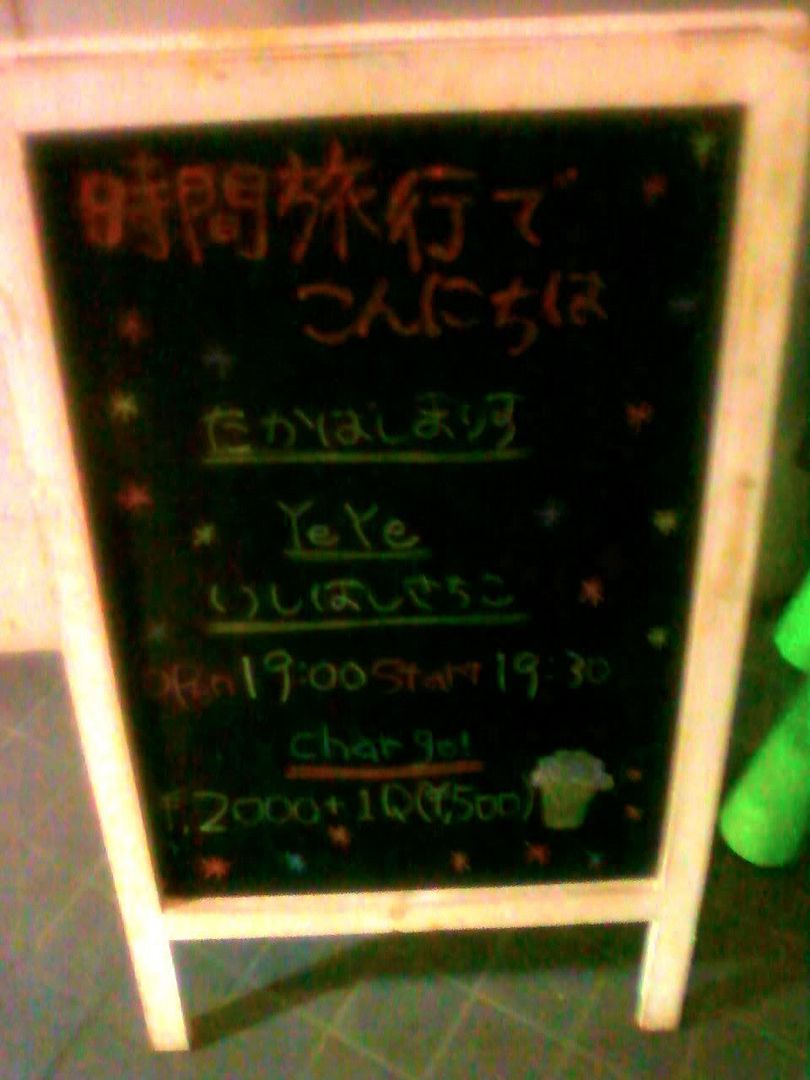 And so, after a nice day with my host family spent lounging around their area at a net cafe and eating a really tasty lunch, I took the train to Yoyogi to see YeYe at an event at a small club called Strobe Cafe(not exactly, a cafe, per se). If you remember, I saw YeYe in Osaka at the beginning of my trip with a slew of other great underground artists, but this time she was touring in Tokyo at the same time I was there, so I made a note to check her out and show my support.
One of the goals of my trip was to see an indie pop/guitar pop/shibuya-kei-ish group live, all the better if in an appropriate environment astray from the common dingy, rock'nroll tinged live house venue. Though I wasn't seeing anyone I knew that night except
for YeYe, this event, without me realizing it before hand, ended up fulfilling this wish and being a really great show to cater to my mood at the time: I didn't want to see a really long show and stay out all night after making the long journey to Tokyo, not to mention my lodgings with my host family were fairly far away in Saitama, an hour and a half away from the venue.
I was a bit worried with the small map I had for Strobe Cafe but I winded through the streets from Yoyogi station and eventually found it. Yoyogi park came to mind, a venue famous for cosplayers, bands, and the like, accessible from the popular Harajuku neighborhood. It was nowhere in sight, but Yoyogi was opting to be a fairly peaceful neighborhood and I liked it a lot.
Strobe Cafe is tucked in the basement of a small side street. The small neon sign is hard to miss. As I entered, the atmosphere was immediately new to me. It was not so much a live house as it was a trendy little cafe with a stage up front. The bar was right when you came in on the right side, merchandise on your left(magazines, CDs, etc.) and then rows of chairs followed by the stage. It was a really small place, no bigger in size than a classroom back at home. There were quite a few people already in attendance, most of the seats taken, but I managed to find an empty chair and watched as the first group set up.
Marisu Takahashi was the first act up, accompanied by nanatsu no mori, the backing band. These guys were really smooth, peaceful, but they lacked a little bit of something that I needed to really feel them. They were indie pop, maybe more geared towards pop and folk. The vocalist, Marisu, looked really young. It was charming that after her set she went around to everyone in attendance, me included, and thanked them for coming, while Yeye set up on stage.
The view was pretty bad to take pictures from where I was sitting so I moved to the side to sit on the bench built into the wall. Alongside Natsuko was someone else who was also setting up, which piqued my curiosity.
Yeye was accompanied by the guitarist of trademark, a band I had heard a couple times. Specifically, I was familiar with them from the catch one's breadth compilation CD I had come to own. Incidentally, I had planned to see them in April 2011, before heading to Okayama but due to the earthquake and tsunami that happened before my departure my plans abruptly changed to a journey through Osaka. It was rather curious that I finally got to "see" a part of trademark now as I made my way back to Guam. Also, because I changed my itinerary from Tokyo to Osaka, I was able to see YeYe, whereas if my plans to Tokyo were never disturbed I would have seen trademark. It's funny how things eventually work themselves out one way or another.
YeYe played her usual repertoire of songs, similar to what she played when I saw her a few months back in Osaka. The cool, loungy, atmosphere of Strobe Cafe fit her profile much better than when I saw her at Fireloop, which was much more like a live house, the stage far too big for single performers, which is who Strobe Cafe's setup seemed especially to cater to. Negishi, the guitarist of trademark, (the aforementioned other person setting up) made the biggest effect on YeYe's set, playing accompanying effects on his electric guitar. Her study recordings are adorned with guitars, bass, drums, xylophone, and other instruments, but seeing her live feels a bit more empty with just an acoustic guitar. The accompaniment was ample for giving her music the boost it needed and made it feel closer to her desired sound, or at least what was evident on her recordings. It was highly enjoyable. She also did a small portion of "Gee", by K-pop sensations Girls Generation, on her guitar that gave the audience and I a good kick.
Ishibashi Sachiko was the last act on the bill that night. She set up similarly, to Marisu: a full fledged band with Sachiko up at the front on vocals. The vibe was very calm and a lot more mature than the others. The musicians playing for Sachiko seemed way more relaxed and seasoned than Nanatsu no Mori was. Her vocals were more pleasant and relaxing and her music had that element that Takahashi Marisu failed to deliver. I'm still not certain what that secret ingredient was, but perhaps it was the maturity of her songwriting. Anyhow, it was a great way to end the night, which was thankfully still young.
Sadly, none of the groups were selling goods or anything; I'm sure this venue was too small to warrant something like that. But afterwards people walked around and purchased goods from Strobe Cafe's small shop, got some more drinks, and chatted with the bands in a relaxed, smokeless(!!!), and well lit(!!!!!) atmosphere that was definitely a departure from a scene at local live houses. At my request, YeYe was able to give me her band's(she plays bass and sings for concentrate on popping) demo and I chatted with her and Negishi from trademark about the coincidence between seeing them and planning to see trademark that I mentioned earlier. The manager was also surprised I had come from overseas(I'm not sure if he was with YeYe or on staff with Strobe Cafe), and apologized for earlier for being stern about not video taping the event(many other people were, as well, but I can't figure out why I was the only one scolded). After my conversation I headed back to catch my train headed for Fukaya station. As I walked up and out of the cafe some of the musicians from early were having a smoke by the side walk. I nodded to them and walked back to Yoyogi station, grabbing a simple dinner at a takeout place to eat while waiting for the train.
Thankfully, and unknowingly, I was able to cross of my concert bucket list: See an indie pop show in Japan. It was great, and I can't wait to be back in the basement of strobe cafe, sitting back and relaxing to the sweet vocals of another great artists.
Here is a video I compiled of a "digest" of the three acts, with some very short footage of each. If a picture is worth a thousand words, than what would a video be? Hopefully you can place my writings in check with what you see in the recording !
~hideki~