It's crazy how huge bands can get within the span of a year or so. Take モーモールル ン (mow mow lulu gyaban) for example. They played at this exact same venue, Crazy Mama 2nd room, just a year ago on one of their tours, playing a usual half hour set with tickets under 2,000yen supported by some local young bands in the area. Well, just a year later the band has exploded onto the indie scene, hopping onto a major record label and organizing a one-man live tour all over Japan, selling out some venues rather quickly, too.
While not a huge fan, I knew I had to check them out when they came to town on said tour. As much as I liked the band I never knew they had it in them to get as big as they were, but I can't exactly complain about that. I was somewhat familiar with most of their music, though I wouldn't call myself a huge fan.
I ended up heading to the show a little bit after the opening time, not expecting it to be too packed, but even though I had gotten there rather early the place was already packed from the stage to the bar in the back, and I got a lousy spot on the slightly raised area in the back of the club. It was amazing to be able to see this many people in the club since I had seen a show here last year that was pretty much empty. That, and it looked so packed that it might have sold out.
The drummer came out on stage and immediately got the crowd into singing along acapella to the rhythm of "kimi no skirt wo mekuritai". Everyone joined in as he stood up on his drum stool in his underwear reaching out to the crowd. He then talked about how the show had sold out and how they had played a small show here last year, as I had mentioned, and asked the audience if anyone who had seen them last year were here now, and a couple people in the front shouted back to him. The rest of the band soon joined him on stage and the show had begun.
The band kicked off with a whole bunch of songs from their new album(which I admit I have not heard yet!) but they also delved into some songs from their past two records, which I was more familiar with. I really appreciated them playing "contact" a song I thought they might not be so up for nowadays since it was on their first CD, but was still one of my favorites, being really relaxing and featuring vocals from the adorable keyboardist Yuko. The entire audience was really into the show, people from front to back were headbanging and swaying along in a trance to their songs. Being the rave for their live shows, Mow Mow Lulu Gyaban really lived up to their reputation. The drummer was always on top of the vocals, almost literally, since he was constantly standing on his chair and having an assistant adjust his mike so often. Even if he was doing the vocals he multi-tasked extremely well and his busy drumming seemed to not be affected at all by his vocal duties. The bassist kept the groove in the center of the stage, most of the time just grooving along, but Yuko would get really into her vocals and sometimes even bring the keyboard into the audience on her side. The band was just seeming with all this raw power, and the audience could feel it too, making for a really fantastic show I don't think anyone could have left being disappointed. Their set also left me completely satisfied, a gist of it coming from their new album but the older material was there in great numbers as well. For a full setlist, someone else who I saw the concert with took down the setlist and posted it
here
. Towards the end of the show, the drummer stood up towards the audience again and tempted to take of his underwear, and when he did so there were two more pairs underneath. They played 2-encores and finally said good night to the crowd.
The gig was a lot of fun and while hanging out in the venue after the show I saw the drummer come out from backstage and onto the floor, covered in sweat and still in his underwear, while fans swarmed him to take pictures and a couple girls got to give him a big, sweaty hug. Nice.
It was cool that the bassist and Yuko were out at the goods table selling goods, and later the drummer would join them. Even as big as they were getting, they still seemed to at least care a bit about their fans to be out there to meet them, something that I had kind of wished for at the Base Ball Bear show i had been to. At least the three of them were cool enough to hang out after the gig and greet people, they seem to still have a great attitude towards their fans. I found a couple pictures of them with the bassist's sister, who seems to live in Okayama and brought her kids to see the band after the show. Adorable!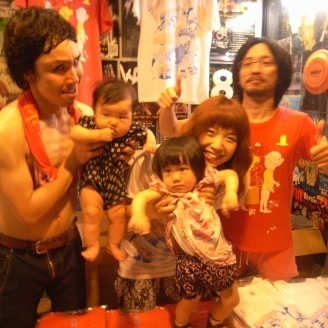 As I left the venue with the other fans and walked out into the street, shirt drenched in sweat, I looked around and realized that I wasn't in a venue anymore and I was back in the real world. All of us that had seen Mow Mow Lulu Gyaban that night had now faded back into the real world, no longer gathered together under one cause, but separate entities walking the streets of Okayama, no longer as special as I thought we were. It was a strange feeling.
~hideki~