A few months before leaving to Japan I started to compile a list of concerts I would be interested in going to. The list slowly populated itself as the day of my departure drew near; bands updated their web pages with new tour dates and Live House's posted monthly schedules and filled in the missing gaps. In weeks time the list went from being one show each day to some days having around 3 possible gigs to attend all around the Tokyo area and in between. My final decisions were hard to make but I ended up not regretting my choices at all, as tough as they had been to make. However, amidst the mess of the computer based text document and calendar on my wall there was one date that remained unchanged for the entire ordeal, bearing simply this name and venue: 3/27 Winnie @Shimokitazawa Shelter.
I wouldn't call myself a dedicated, die hard fan of winnie, but compared to the other artists I was slated to see in Japan I was more familiar with winnie's music. The band didn't have a huge catalog of Best Of's, B-sides on 3 inch singles, and ridiculously rare, indies-era demo cd's. Instead, winnie proudly released their first full-length album and had a few EPs under their belt. It wasn't very hard to familiarize myself with more of their material prior to watching the concert which was a relief.
Unlike the prior concert I went to in Shimokitazawa, this one I was 100% sure I could find(based on directions I looked up before I left to Japan). Already familiar with the streets outside Shimokitazawa's South exit, I walked briskly on the narrow sidewalk and made my way to Shimokitazawa Shelter. A line had already formed outside the club and people were lining up. I was so glad the band had made their ticket available for reservation through their home page(which I stalked for a couple of weeks straight, praying the tickets wouldn't sell out immediately). I stayed in the back of the line as I watched the people in front disappear into the basement of Shelter as an attendant called out their ticket numbers. As I neared the entrance I gasped at what I saw(and was even more thankful I was able to reserve my ticket early):
(from winnie's blog)
Since the show had sold out I was sure the club was going to be a tight fit. As I got in I made sure to secure myself a spot as soon as I could and made my way towards the dead center, not too far from the front. As the lights dimmed I noticed that the people were even standing on the stairs to the right to get a better glimpse of the concert.
The band played straight off and they played one of my favorites, "brightness", as their second song. "Starlike Stereo" was played mid-set and later they played one of best tracks from their new album, "winner". The crowd coaxed the band into an encore and they played two more songs, the final being one I really wanted to hear that night, "suck my brain"(horrible title).
In the music video for "winner" vocalist/guitarist Iori flaunts a Flying-V donned in the bands signature black with white polka dots pattern. The "Guitar God" himself emerged from back stage to hand Iori the same polka-dotted Flying-V before playing "winner" and a few other songs before the guitar was returned back stage. The bands colors were everywhere in that show: on stage, they also had a special box for their guitar amps in dots, the drummers bass drum head, the guitarists jacket, a large banner in the back of the stage, and of course nearly everyone in the audience either wore a winnie concert T-shirt/towel or had on some kind of garb that was black with white dots(I tried finding one prior to attending but was unsuccessful until I came upon one a few days after the show..argh).
Winnie wasn't a "live" band like Karen had been for me the night before. There wasn't a lot lost in winnie's recordings but that was perfectly fine. Iori's vocals sounded great live and the dual vocals in "starlike stereo" and "who's dreaming deep" with guitarist Okuji were perfectly executed. It's not that winnie isn't a "live" band, their brand of music is just great live and recorded.
They also had every right to put on a fantastic performance: this was what I believe is their first One Man Show(or from what I heard later, but can't confirm, the first in a very long time).
After the band had finished I was parched, so I grabbed a soda at the bar. I met some guys who spoke English as I was lining up to get in and one of them introduced me to a girl standing towards the back. She was from Hokkaido and came to see winnie with the guitarist from Starboard, a band I've heard of but not quite into. She said that even in Hokkaido there weren't many people who shared her taste in Japanese music. I grabbed a T-shirt, some pins and a CD from the merch table and when the entire band came out onto the floor people flooded them with requests to sign CD's. I left the club with the friends I made and their Japanese friends and we grabbed a quick bite to eat before heading back on the train. Thankfully, some of them were headed in my direction so they let me tag a long with them on the ride home. The English speaking friend I made was nice enough to ask the band for me to take a picture and they happily obliged: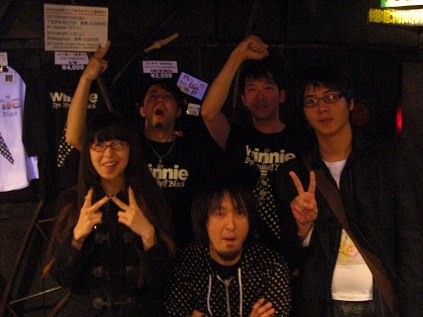 At the end of the night I was glad I came to the winnie concert and even more happy that I was able to meet some people. I thought of something I read once about going to concerts in Japan, something like "Don't be shy to talk to someone next to you when you're at a concert. Besides, you two both came to the venue to listen to good music, so you at least share that one thing in common". Even if I wasn't too sure about it when I left, I guess there are people out there who don't mind chatting with a guy who speaks horrible Japanese and is from a island half of their friends have been to on vacation.
~hideki~